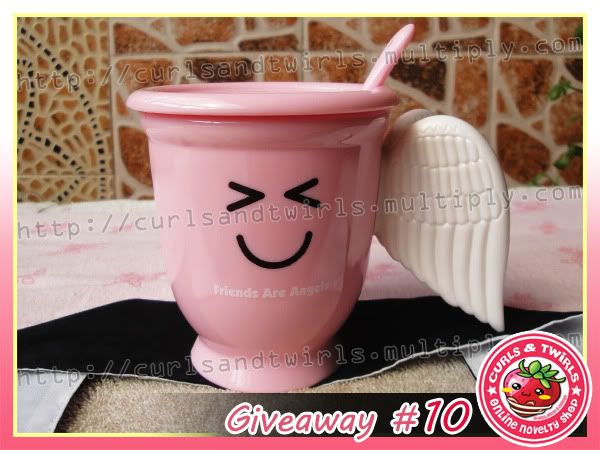 CURLY~TWIRLY TREAT #10
Friendly Angel Drinking Mug (Light Pink)


-------> Comes with a cute gift box!

HOW TO JOIN:
1. Be a part of our family by clicking the link and

liking

our page.
http://www.facebook.com/pages/Curls-Twirls/114167227998
2. Click the link and like the image.
http://www.facebook.com/photo.php?fbid=10150444718892999&set=a.10150110709232999.293040.114167227998&type=1&ref=nf
3.

For BONUS points

, comment on said image by completing the sentence:

"This year, I am thankful for ----------------."

! :)
4.

IMPORTANT!!

Make sure you leave any of the following via comment -

mobile no/s., e-mail address or Multiply ID

. We'll be needing them to contact you in case you win~!
CURLTWIRLY TREAT #10 WINNER:
Zai Martinez
Randomly picked by Classtool.net's Fruit Machine
CONGRATULATIONS!
Much thanks to everyone who joined. :)
★
Gen's gratitude list:
★
"This past year, I'm thankful for a lot of things: health among my family and friends, the many clients and new friends I've made through Curls & Twirls, and this shop still going strong after 3 years. You know who you are; thank you for making 2011 such a blastin' good year! :)"
Anyway, please stay tuned for January's giveaway~!
XOXO,