Happy 2016!
Sorry for being MIA, lovely people! D: I've been the busiest I've ever been from late December to early January so the blog and even the website became standstill. Not to worry though, because I bring a lot of news and updates to you today.
But before that...!
HAPPY 7th BIRTHDAY, CURLS & TWIRLS!!
Yes, that's right! :) Curls & Twirls was actually born on January 3, 2009 and first opened its (virtual) doors to Multiply shoppers. Now, 7 years later, it's still going strong! Looking back on each and every milestone never fails to bring me tears of happiness. My beloved baby is THIS old already! :D And I have YOU, my forever cherished clients, to thank for. Super duper THANK YOU for the never-ending support you've given my store. <3
Now, on to other stuff:
Curls & Twirls HOLIDAY Sale.

Yup, the sale is still ongoing, but not for long! The 15% discount site-wide is valid until January 31, 2016, so better get shopping! And don't forget to use the code [CTXMAS15] when you check out. ;)

2016 goodies.

New stuff will be arriving SOON. My Japan box is late, but I promise it'll be here by February. Cute and quirky novelties abound! Just the way you like it. <3

New (back-up) courier.

Effective immediately, I'll be using Fastrack as a back-up courier, because ever since I moved to Muntinlupa City, most of the time, Xend would/could not pick-up my packages despite confirmed bookings. Other than that, I'm not very fond of the rider assigned in my area; he's a newbie who seems to have missed orientation

*

and is incredibly lazy

**. And thus, to ensure that your packages get sent and delivered on time, I shall be alternating between Xend and Fastrack. International shipments will be via Xend/Singapore Post still.
Another important announcement which deserves its own paragraph is...!
Curls & Twirls is at UNIQUBE!!
This is the first showroom we've joined, and we are super giddy with excitement! :D There's not much inside our space because, as mentioned, my Japan box has yet to arrive, but I guarantee that new items will soon grace our itty-bitty cube. [SPOILER: More wacky mug designs are being printed as I type!] :3~
So there; I won't keep you any longer. Hang tight, stay kawaii, keep smiling, and I'll talk to you again soon! <3
XOXO,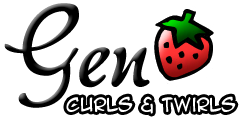 [
*
]
The first time I handed Xend's Muntinlupa-assigned rider a prepaid waybill, he looked at me weirdly and asked me if it was real. When I told him it was in fact a legit waybill issued by Xend, he wouldn't believe me and called Xend's CS rep to confirm - he didn't even excuse himself. After the call, he took the waybill, looked at it again, then asked me if he should issue a receipt for it. Why would he ask ME? How would I know?! (I use the same prepaid waybills in Las Pinas, but I honestly couldn't remember if the rider there issued me one. Yes, I forgot, but shouldn't he know the protocol HIMSELF?) In the end, he did give me a receipt for it, but came back the next day and asked that I return it, because it turned out he wasn't supposed to give one for prepaid waybills. STRIKE ONE.
[
**
]
About 2 weeks ago, I booked for a pick-up via Xend's website and included in the Remarks space to "Please bring supply of pouches, both sizes". The following day, the same rider knocked on my door and I handed him my packages for the day. After paying my dues, I asked him for my pouches. He stared at me, made this face, and told me he didn't receive any notes regarding my request. Well, I DID make my request, I remarked. He said his supplies were on his motorcycle downstairs. I stared back, and he once again made a face as he scratched his head, and it was clear he didn't want to go back down, get my pouches and return to my unit. I could feel myself growing irritated. The guard who was escorting him
***
seemed to have sensed this, so he courteously stepped in and volunteered that he get the pouches from the rider and bring them to me himself, much to the rider's delight. STRIKE TWO.
[
***
]
Because hubby has work until around 12 or 1am every weekdays and I'm left alone, he has requested to the guards in our lobby to escort anyone, mostly courier staff, when making deliveries/pick-ups to my unit for my security.