Heads up!
Below is the floor plan for the 5th Philippine Cosplay Convention this March 3, 2012. As you can see, Curls & Twirls is located at BOOTH # 4. Click the image to see the floor plan as a whole.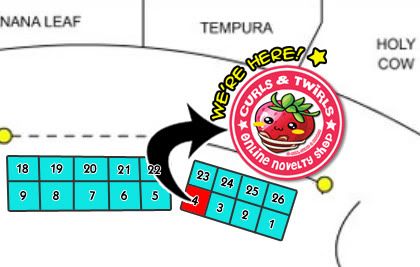 So, yes, this will be our 3rd event; I'd like to think that we've come a long way since 2010's AME Track 10. xD
Now, what to expect? Booths and exhibitors that will offer different wares like cosplay materials, anime merchandise, and quirky toys and accessories from yours truly. Also, a cosplay competition, cosplay lounge, a gallery and the highlight of the day, the
Cosplay Costume of the Year (2011)
.
This is sure to be a whole day of nothing but

funfunfun

, so if you have the time, do drop by (and maybe visit us as well? :3).

It's FREE ENTRANCE/ADMISSION anyway.
See you guys there? :3
XOXO,