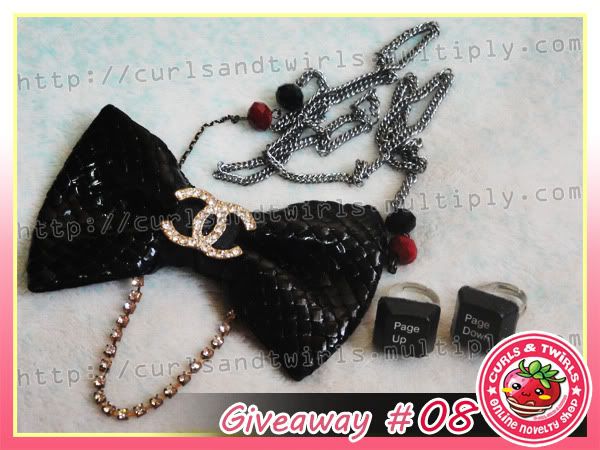 CURLY~TWIRLY TREAT #08
Posh Ribbon Necklace (Black Chanel)


Handmade Keyboard Rings (Page Up & Page Down)



HOW TO JOIN:
1. Be a part of our family by clicking the link and

liking

our page.
http://www.facebook.com/pages/Curls-Twirls/114167227998
2. Click the link and like the image.
http://www.facebook.com/photo.php?fbid=10150342393957999&set=a.10150110709232999.293040.114167227998&type=3
3.

For BONUS points

, comment on said image with the LAST item you bought from Curls & Twirls (

if you haven't purchased yet, just type in "SOON"

)! :)
4.

IMPORTANT!!

Make sure you leave any of the following via comment -

mobile no/s., e-mail address or Multiply ID

. We'll be needing them to contact you in case you win~!

CURLTWIRLY TREAT #08 WINNER:
Lady Shayne Yap
Randomly picked by Classtool.net's Fruit Machine
CONGRATULATIONS!
Much thanks to everyone who joined. :)
★
Gen's message:
★
"We'll be having our annual

Triple Holiday Sale

this

Nov. 01, 2011 - Jan. 10, 2012

, so to those participants who wrote that

they will buy from us "SOON"

, we expect you to do just that during the sale! Haha. *wink*wink* :)"
Anyway, please stay tuned for November's giveaway~!
XOXO,